Strategic Account Management is the appropriate answer to the globalization.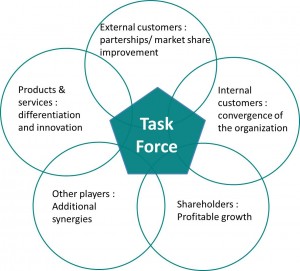 In most of the industrial companies , 30% to 40% percent of the turnover of an activity is made through less than ten international or multi- zone customers.
The Strategic Account Management reshapes the Customer Relationship with these key accounts, in a way which evolves towards the Elaboration of Solutions and long term relationship, instead of limiting the relationship to the sale of products (which would evolve in that case progressively to the sale of commodities).
The seniority of the Relationship is enhanced with the main decision makers of the Customer. The needs are anticipated. The Relationship becomes win- win. The account is protected and the market share increases accordingly.
Supplier may then grow with the Customer in synergy towards new geographies.
We offer a triple commercial, technical and financial expertise to serve the industrial development :

  Phase 1 :
- diagnostic and benchmark of the existing situation
  Phase 2 :
- selection of the appropriate Strategic Accounts
- definition of the Account Managers profile
- search for the added value parameters
- elaboration of differenciating solutions
- organizational improvement suggestions where relevant
  Phase 3 :
- operational start- up through the training of the Strategic Account Managers
The benefits are :
- significant increase of market shares increase at strategic customers
- profitability improvement through adding value solutions
- minimization of the risk linked to the growth in foreign countries
- International growth of the activity
- alignment and focus of the internal structures